Iphone activation lock bypass tool 2018 - Free Download
Activation lock saves an Apple device from being theft or stolen. A user can disable a stolen or lost iPhone to protect the data stored on the device from falling to the wrong hands. However, bypassing the iCloud Activation Lock might be necessary, and we have written this whole article on that matter.
To do that, you will need to download iCloud remover tool from this article. Of course there will be changes implemented in various ecosystems of the iOS platform, but the iCloud Activation Lock features are most likely to remain the same.
Thus, the matters we discuss in this article would apply for both the current iOS versions, and the upcoming iOS The feature is embedded in iOS 7 and later, thus most Apple devices of today are eligible for this feature. To activate the Find my iPhone feature on your iPhone, make sure you are logged into your Apple device with your Apple ID and Password, and then turn it on from Settings. Once turned on, no one would be able to turn off the Activation Lock feature on your iPhone without the iCloud login credentials, erase the device or reactivate an activation locked device.
There might be situations where even an iPhone owner might need to unlock their iPhone s. To unlock an activation locked iPhone without using the iCloud remover tool, the legal way requires interaction with the Apple customer support department. Get yourself to an official Apple outlet close to you, or send an email stating your situation briefly. Few information will be asked to provide like your name, address, email, username you have used, devices you have had under the same Apple username, reason why a bypass of the iCloud lock is necessary etc.
After all these documents are submitted, the Apple Customer Support will proceed with the bypassing procedure. Having the invoice of your iPhone purchase is much necessary, and you should have the box as well. Failure to provide necessary evidence of ownership might result in bricking the iPhone for good, so be careful with that. Now you can use your iPhone or iPad to play games, watch videos, browse the internet, etc. To bypass the iCloud locked screen on your device, you need to download iCloud remover tool.
After you download our iCloud removal tool, you will be able to bypass the activation screen, and use your device again. Download the tool from the link below. Bypassing the iCloud Activation Lock using iCloud remover on a locked device is possible, but the best way to not fall in such trouble is not to play around with the Find my iPhone feature, when your iPhone is not actually lost.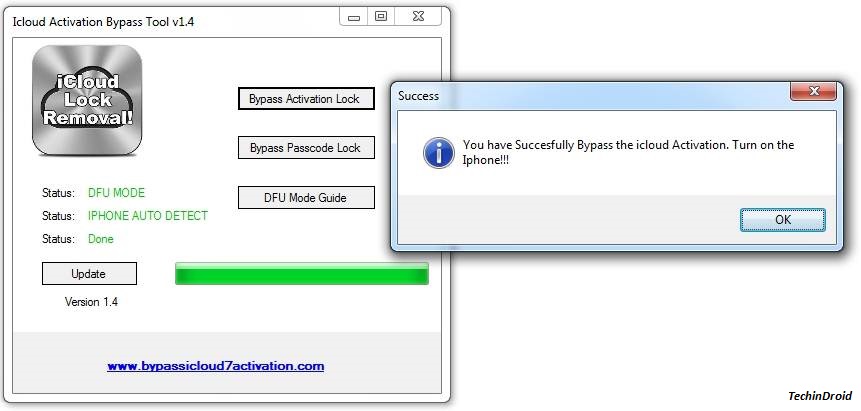 Best iCloud Bypass Tools 2018 – Remove iCloud Activation Lock
Using the iCloudin — iCloud Bypass Tool 3. Donate and help us to get the server back up and running. About Contact Privacy Policy Advertise. This is a multi-purpose tool. This is by far the best modern iCloud bypass tool and one can get the surety to unlock their iPhone. Till now getting any issue to use or download icloud bypass tool, please notify us. All our donators will get a priority on our BETA activation list. Downloading this tool is free of cost.
iCloud Remover tool – Bypass iCloud Activation Lock iPhone / iPad iOS 11/10
It may be a little hard to find the best iCloud bypass method. I hope, now you have enough knowledge about iCloud removal tool software including best iCloud bypass tools In this way your Apple device and personal precious data is fully secure by Apple. Kindra June 5, at 6: Find my iPhone when turned on, Activation Lock is enabled automatically. The feature is embedded in iOS 7 and later, thus most Apple devices of today are eligible for this feature. This way of contacting us is not support questions. Amber Stevens June 4, at 7:
Bypass iCloud Tool
A user can disable a stolen or lost iPhone to protect the data stored on the device from falling to the wrong hands. Of course there will be changes implemented in various ecosystems of the iOS platform, but the iCloud Activation Lock features are most likely to remain the same. To activate the Find my iPhone feature on your iPhone, make sure you are logged into your Apple device with your Apple ID and Password, and then turn it on from Settings. You can use this app to synchronize your iTunes account so that you can access all the files over the internet. Remove iCloud Activation Lock Tool is entirely free of cost. So check the below section and learn how to remove iCloud account using iCloud account bypass tool? You can help us by completing a survey or offer with our partner TrialPay. After downloading follow our instructions to unlock your device in iTunes. April 20th, 4 Comments. About Contact Privacy Policy Advertise. Read the description of the tools and find one of the best iPhone iCloud activation bypass tool for you.
Summary
Reviewer
Review Date
Reviewed Item
Iphone activation lock bypass tool 2018
Author Rating